Why A Water Softener, What About Electric and Magnetic Water Conditioners?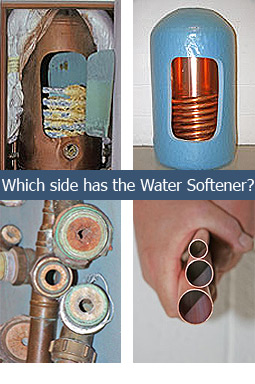 These products do not remove hardness from your water. They can be useful placed in line just before an electric shower or a boiler. They reduce scale by putting a charge in the water and altering the shape of hardness crystals. However this effect is temporary and is lost when water flow stops for more than 30 minutes. Any stored water in cylinders and tanks will return to the same condition as before.
Is hard water better to drink?
Studies show that it is better to drink hard water. Calcium and Magnesium are essential minerals in your diet and drinking hard water will make a contribution to the amounts needed to be healthy. A hard water tap will be left after installation so that you can continue to drink hard water. Drinking softened water is not harmful but babies and people on low sodium diets should not drink softened water.
Can these claims be proved?
I have a small portable water softener and I will be happy to demonstrate the effects and benefits using your water in your home. The demonstration takes 20 minutes and there is no pressure to buy a water softener what so ever. Please fill in the request form and email it back. I will be happy to show you.
Buying a Water Softener
First I will check the size of your incoming main water pipe and provide you with a quote.
Once we have decided where the machine will go the installation usually takes less than a day.
The softener can be installed in a kitchen cupboard
You will be provided with hoses and valves so that the machine can be taken out and moved if you decide to move home.
Payment can be made once the softener is installed and working.
The cost of buying and running a softener
I will be happy to quote for a water softener if you will kindly email the auto quote back to me.
The only on going cost is salt which will be around £50 per year.
There is no annual servicing required for this machine.
There is no electricity supply required so you do not need a socket in the cupboard to run this softener.
The machine uses 17 litres of water to regenerate one of its tanks for every 375 litres of softened water provided.
This machine is expected to be reliable for 15 years or more
This water softener has a two year full guarantee with back up provided by myself as well as
the factory and staff based in Woking.
So how did I come to the figure of saving over £600 a year for a family, see the table below:
A family of four will save money in the following areas:
| | |
| --- | --- |
| Hot Water (energy) | £56.00 |
| Plumbing and Appliances (wear and tear costs) | £175.20 |
| Expenditure on household personal and laundry items | £421.36 |
| | |
| Less estimated annual salt requirements | -£50.00 |
| | |
| TOTAL ANNUAL SAVING | £652.56 |
Click here to see detailed breakdown of the figures.
Why this machine over other water softeners?
The Harvey water softener has been designed specifically for British plumbing systems.
It is the only softener with displacement metering.This counts every drop of water so that regeneration takes place exactly at the right time with no waste.
It avoids any electronic or electromechanical valves and timers.
The mechanism is driven by the energy from your incoming water so when you are on
holiday and not using water it sits and waits.
Dual tanks means the system is always working even when regenerating one tank.
Harvey's dual tank system works in parallel so that flow rates are improved. The Dual Flow
softener can deliver 50 litres per min.
The Harvey softener is a class leading product. It is British designed, manufactured
and supported.
For more information or to request a quotation please call Chris on 01488 648018